Summer is here! There is an endless amount of adventure on both land and water for your Panama City Beach getaway. Long stretches of "The World's Most Beautiful Beaches" and the emerald green waters of the Gulf of Mexico have made Panama City Beach famous, but it's what visitors can do here that make it such a popular destination.
If you are seeking water fun then try parasailing, kiteboarding, skim boarding or windsurfing. Charter a boat and cast your line into the Gulf. Catch a glimpse of playful dolphins off Shell Island from a tour boat or jet ski. Combine eco-tourism and excitement while cruising our natural waterways on an airboat in search of alligators and coastal wildlife.
Need a break from the beach? Satisfy your thrill-seeking urges with zip lining, mazes, dune buggies, putt-putt golf, and racetracks. View the breathtaking scenery by taking a helicopter ride, spend leisure time playing one of our championship golf courses or visit one of our many museums.
Panama City Beach also offers close encounters with both dolphins and exotic animals. This is your chance to view the natural beauty found in almost every corner of this piece of paradise…the possibilities are endless! So many choices, never enough time. Don't worry – you'll be back!

Adventures At Sea Rentals
850-235-0009,  5711 N. Lagoon, Panama City Beach across from Capt. Anderson's. Website: watersportspc.com Featuring large, clean and reliable full-size pontoon boats available for full-day or half-day rental. All boats have Bimini tops, VHF radios, swim ladders and safety equipment (fuel included). Visit Shell Island to swim and snorkel with dolphins or fish the bay - snorkel gear and fishing pole rentals are available.
Go parasailing to get a bird's eye view of the beautiful Gulf of Mexico, rent a jetski to see dolphins up close (both guided and unguided tours available) or try your balance on a paddleboard. At the end of the day, stop by our Tiki bar & grill for a cold drink and food. Major Credit Cards Accepted.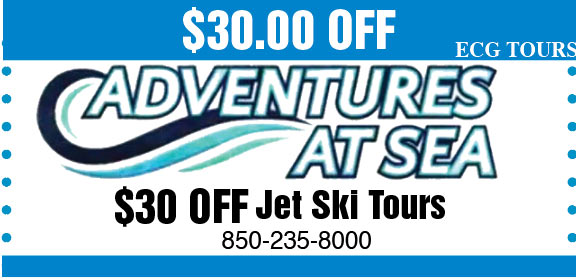 Airboat Adventures
850-230-3822, 6523 Hwy 79 Panama City Beach, Website: swampvette.com. Absolute MUST DO vacation memory. Our highly trained and exciting staff will thrill you with a high-speed ride on a real Everglades style Airboat through area's of "skinny water," and take you places no other boat would dare to go. Look for alligators, dolphins, birds of prey, native vegetation and the ever-elusive "Gator Frog". Every tour features an in-depth alligator demonstration and you get to actually hold an alligator for a picture. Tours sell out, so book early! Year-round, weather permitting. Major Credit Cards Accepted.
Airboat Tours
on "Wild Thang"
850-234-1532, 14856 Bay View Circle, Panama City Beach, just 5 minutes from the Beach off Hwy. 79. Web Site: wildairboat.com. Experience real Florida as you skim across the backwaters & creeks in search of alligators, dolphins and birds of prey. Fun and educational for the whole family. Open year-round. Reservations suggested. Group rates. U.S.C.G. approved. 1/2-hour and 1-hour tours available.
Beach TV – Channel 7
850-235-4176 Email: sales@tripsmarter.com. Web Site: tripsmarter.com. America's #1 Visitor Information TV Station brings you Local News, Events and Weather at the top of every hour, plus restaurant and nightlife reviews. Submit your own restaurant reviews and watch BEACH TV streaming live on the web at tripsmarter.com.
Capt. Anderson's Cruises
Capt. Anderson III
Sightseeing Boat with
Sea Life Viewing Well
850-234-3435 or 800-874-2415, 5550 N. Lagoon Dr., Panama City Beach. Offering trips daily; The Shell Island Seafari Eco Tour runs twice daily at 9am and 1pm, watch dolphins, seabirds and turtles as the captain takes you on a narrated tour of Historic Grand Lagoon & beautiful St. Andrews Bay before our mates drag a net and let you touch the sea creatures. Shortly after that you will stop at Shell Island where you can explore the pristine beach and go swimming, shell collecting and sunbathing. After you leave the island the Captain will take you to look for dolphins. Our popular Sunset Dolphin Encounter departs each evening. Cruise times vary with sunset times. The Capt. Anderson III has a covered open-air top deck and air-conditioned bottom deck with a snack bar and restrooms. Perfect for family outings, private charter or Birthday Parties!. Major Credit Cards Accepted.
Capt. Anderson's Cruises

 PCB Shell Island Express/Hourly Shuttles to Shell Island
850-234-3435, 5550 N Lagoon Dr., Panama City Beach. Located at Capt. Anderson's Marina. Web Site: CaptAndersonsMarina.com. Ride the newest and fastest boat to Shell Island. We offer plenty of free parking and it's a short walk to the boat. Ferries depart daily every hour starting at 9:30am with the last trip at 3:30pm. Stay as long as you like, just make sure you get your final return ferry times from your Captain. Concessions and restrooms available. Private Charters available and discounts for groups of 20+. Major Credit Cards Accepted.
Cobra Adventure Park
850-235-0321, 9323 Front Beach Rd., Panama City Beach. Experience fast fun as you attempt to tame the four-story go-cart Cobra Track. There is no other to compare for extreme go-carting thrills. Home of Craziest High flying thrill rides on the beach: The Wild Thang and The Vertical Accelerator. The newest golf course in the area. Smugglers Cove Mini Golf is a complete pirate adventure. The entire family can watch the kids race on the Kiddie Carts. Cobra is also home to the only Batting Cages in town and a complete Arcade with all the latest in electronic games. Discount armbands are available Party/Group and sports teams welcome.
Coconut Creek Mini-Golf


& Gran Maze
850-234-2625, 9807 Front Beach Rd, Panama City Beach. Website: CoconutCreekFun.com. Open year-round. For adventure and fun for the whole family, come experience the excitement and challenge of playing Coconut Creek's two 18-hole mini-golf courses and experience the pleasure of getting lost in the Gran Maze, a giant-size human maze about the size of a football field. Pay-One-Price admission tickets. Group discounts available. Children 5 and under play FREE. Major Credit Cards Accepted.
Please present a printed coupon for a discount.
Ebro Poker Room
850-234-3943, 6558 Dog Track Road, Ebro (just north of Panama City Beach), website: GoEbro.com. Enjoy Ebro's famous Prime Rib. Play No-Limit Texas Hold'em, "one of the world's most popular poker games", year 'round, seven days a week. NW Florida's biggest poker room features 25 tables, huge jackpots, and weekly tournaments. Major Credit Cards Accepted.
Emerald Falls
Family Recreation Center
8850-234-1049 Located at 8602 Thomas Dr. at Joan Ave., Panama City Beach. Voted Best Entertainment Value on the Beach. Home to multiple go-kart tracks including the Vortex, the original four-story wooden track with all the thrills of "altitude with attitude." Don't miss the Formula Track, a concrete race track with three bridges/overpasses. Fly high like Superman on the Sky Flyer extreme ride. Get wet and wild on the bumper boats or play 18 or 36 holes of Fantasy Golf over the mountain and under tropical waterfalls.The kids will have a blast in Kids Kingdom where there are rides to entertain the little ones. Discount armbands – Group rates/sports teams welcome. 
Gulf World Marine Park
850-234-5271 Located at 15412 Front Beach Road, Panama City Beach. Website: gulfworldmarinepark.com. Open daily rain or shine. Get in touch with fun  GULF WORLD MARINE PARK! Great family fun featuring dolphins, sea lions, tropical birds and much more! Explore our fascinating indoor and outdoor tropical gardens showcasing penguins, sharks, sea turtles and many more! Reservations can be made online or by phone to Swim With a Dolphin, Become a Trainer For A Day, or attend an Animal Meet n' Greet. Interact with stingrays at Stingray Bay. Major Credit Cards Accepted.
Hidden Lagoon Super Golf & Racetrack

850-233-1825 or 850-234-9289
14414 Front Beach Rd; Panama City Beach.
Website: hiddenlagoongolfandracetrack.com
We offer big thrills and fun for all ages in a convenient Front Beach Road location, just steps from the beach. Our Super Racetrack is the longest on the Emerald Coast at almost a mile long! Our Super Racetrack has the best go-karts in town and the track is almost a mile long Our Super Golf features 2 beautifully landscaped, 18-hole miniature golf courses. Choose from the kid-friendly Fountain Course or the slightly more challenging Waterfall Course. Bonus – score a Hole-in-One on the 18th hole and take home $50 cash. Have fun feeding the fish or satisfy your own hunger at the snack bar.Major Credit Cards Accepted
Island Time Sailing Catamaran
850-234-7377 Located at Treasure Island Marina, 3605 Thomas Dr., Panama City Beach.
Web Site: islandtimesailing.com. Explore the waters & entertaining sea life surrounding beautiful Shell Island on one of our fun filled Shell Island snorkel tours or relax and enjoy the view on a breathtaking dolphin sightseeing sunset tour. Dolphins, of course, are the main attraction & are likely to be seen on both of these tours. Whichever trip you choose you won't be disappointed! Call or visit our website for specific tour times & details.
 Lagoon Pontoons

850-249-3547, 850-588-8700, 5201 N. Lagoon Dr., Panama City Beach, FL 32408 Pontoon rentals – 60 HP and 90HP. Double-decker rentals with slides. Jet Ski rentals – unguided or adventure tours. Dolphin Tours by boat or jet ski. Fishing boat rentals. Sunset & sail catamaran cruise. Our boats are in excellent condition and the staff are experienced and knowledgeable. We will provide you with professional instruction to be sure that even first time renters will feel comfortable and safe with their friends and families aboard our pontoon boats. Major Credit Cards Accepted
Panama City Beach Winery
850-233-5950 Located at 8730 South Thomas Dr., Suite 1103B., Panama City Beach.
Web Site: panamacitybeachwinery.com. Enjoy a unique adventure of 100% real fruit wines from the only certified Citrus Winery in Florida! Your adventure begins with a complimentary tasting of our award-winning wines that you select. Try Blueberry Blue, Blackberry Gold, Key Lime, King Kiwi, Mango Mama, White Gold (Peach), Florida Fever (Passion Fruit), or one of our other delicious fruit wines. We're unique, and we love being different! OPEN 10am – 5pm Monday – Saturday. No reservations required for wine-tasting!Major Credit Cards Accepted

 Panhandle Helicopter Tour
850-230-2080, 15726 Front Beach Rd., Panama City Beach. Website: panhandlehelicopter.com. Come fly with us over the beautiful Emerald Coast for the experience of a lifetime! Enjoy a bird's eye view of wildlife such as dolphins, sharks, sting rays, alligators and more. Tours starting at $40 per person. All ages welcome. Open year-round. No reservations required. Our #1 goal, besides your safety, is to leave you with a smile on your face! Major Credit Cards Accepted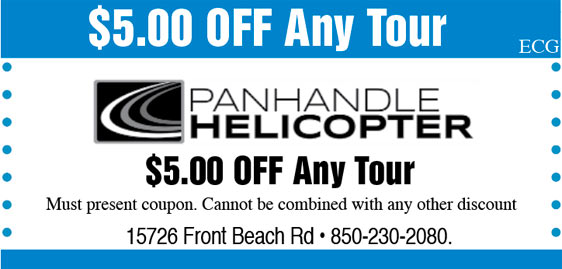 Pinspiration DIY Craft Studio
850-249-6040, 2423 Thomas Dr., Panama City Beach. Pinterest-inspired DIY craft studio where you can make the most popular arts and crafts projects. We are an extremely popular destination for family activites, corporate team building, kid's and adult's birthday parties, bridal showers and bachelorette parties, Girl's Nights out, and holiday parties. We have a beautiful private special events party space, a hip bar to stimulate your "creative juices" and a Jackson Pollock-inspired splatter room! Our studio hosts Paint and Sip (wine and painting nights) so linger with friends over a glass of wine at our wine bar or enjoy bottomless mimosas on the weekends. Relax with no hassle, no mess, and no excuses Major Credit Cards Accepted
Pirate Cruise- Sea Dragon
850-234-7400, 5325 N. Lagoon Dr., Panama City Beach. Web Site: piratecruise.net. Located at the Lighthouse Marina. The Sea Dragon is a 2-hour fun-filled pirate adventure with pirate activities, songs and treasure! From our unique vantage point, you can look for some of our local residents – Bottlenose dolphins, Manta Rays, Egrets, Heron, even the occasional Osprey. The Sea Dragon is a must do for families with young children or anyone who has ever dreamed of riding the high seas aboard a Pirate Ship! Major Credit Cards Accepted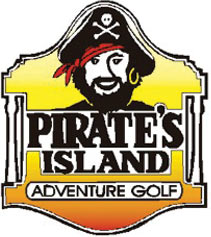 Pirate's Island
Adventure Golf
850-235-1171, 9518 Front Beach Rd. Panama City Beach. Web Site: piratesislandgolf.com. OPEN Year Round The Emerald Coast's ONLY Adventure Golf,
providing family fun for over 25 years. Choose from two challenging 18 hole courses, while enjoying
the tales and scenes from 17th century Pirate
Adventures. Discount passes available for all-day, weekly, monthly and seasonal savings Major Credit Cards Accepted
Race City Amusement Park
850-234-1588, 9523 Front Beach Rd. Panama City Beach. With everything "all under one roof", Race City Amusement Park is a fun and safe environment where children and adults can come relax and play. We have the fastest, tallest, and steepest Go Kart tracks in Panama City Beach, as well as thrilling fairground rides, indoor blacklight mini-golf, skycoaster ride, 10,000 square foot mega arcade, bumper boat, Spin Zone, and fantastic funhouse.Major Credit Cards Accepted
Ripley's Believe It or Not
850-230-6113, 9907 Front Beach Road, Panama City Beach. Website: ripleys.com/pcb. Experience Panama City Beach's fun, new, and most unique attractions. Check out the newest exhibits brought to our location from all over the world. Ride the interactive 7D Moving Theater and see if you can make it through the zombie apocalypse or plunder the most gold as you sail on a pirate adventure. Wind your way through our new Mirror Maze. Put up the top score in our Impossible Laser Race. Open daily. Check website for times and pricing. Group discounts available. Major Credit Cards Accepted
 Sea Screamer Dolphin
& Sightseeing Cruise
850-233-9107, 850-235-3000, 3605 Thomas Dr., Panama City Beach at the Treasure Island Marina, (Extra Parking Across the Street). Web Site: seascreamer.net. Best Prices on the Beach for The Best Dolphin Cruise Ever. A fun-filled two hour narrated sightseeing cruise at day times or sunsets around area waterways, Shell Island and ten miles alongside the beaches. A memorable family-time experience. Kids love the critter encounter! Watergun battles on daytime cruises. Reservations are highly suggested. Cold drinks and restrooms on board.
Major Credit Cards Accepted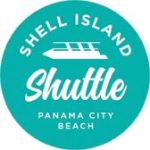 Shell Island Shuttle
850-233-0504 Website: shellislandshuttle.com Play, explore, and visit Shell Island. We have the quickest boat ride to Shell Island departing and returning every 30 minutes. Enjoy sunbathing, collecting shells and snorkeling on some of the brightest, whitest and widest beaches in Florida. Stay an hour or all day. Pontoon boats, kayaks and snorkel gear available to rent. Major Credit Cards Accepted.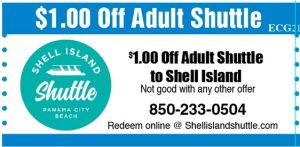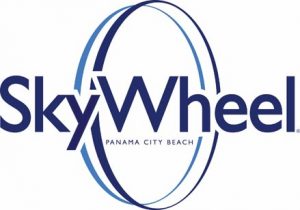 SkyWheel
850-888-0020, 15700 LC Hinton Jr. Dr, Panama City Beach.Website: skywheelpcb.com The SkyWheel, towering almost 200 feet in the air, is a safe observation wheel with fully enclosed gondolas offering a safe and secure flight with glass windows and doors. Each gondola is heated and cooled allowing for year-round operation. The SkyWheel is fully wheelchair and scooter accessible. This full-service entertainment venue also hosts a ropes course, Snack Shack, picnic tables, and an 18 hole miniature golf course. Open year-round and promises an unforgettable, unique
experience for children and adults of all ages.
Major Credit Cards Accepted.
Slingshot & Indy Speedway
850-234-1121, 8762 Thomas Drive, Panama City Beach, directly across from Spinnakers and Club La Vela. Web Site: slingshotpcb.com. Our Rides will keep your heart pumping almost as fast as our Go-Karts. The Sling Shot will offer you a unique experience as you catapult vertically at over 100mph. Feel the force of the Vomatron, this giant 200 foot arm will spin you at speeds of more than 70 mph, putting up to 5 "G' s" of force upon you. Open daily 10am till late. Major Credit Cards Accepted
 Surf's Up Studio Photography

850-230-9283, Web Site: surfsupstudio.com Celebrating our 31st Anniversary of Professional Beach Portraits in Panama City Beach. Specializing in Beach & Sunset Family Portraits, Weddings, Fine Art Canvas, Christmas Cards and more. Beach portraits for families, men, women, children, large groups, couples, friends and pets. Call to make reservations for your family heirloom today. Major Credit Cards Accepted.
 The Grand 16 – Pier Park

850‐233‐4835, 500 S. Pier Park Dr, Panama City Beach website: TheGrandTheatre.com The Grand Theatre Premium Experience offers heated recliners, Dolby Atmos Premium Sound, laser projection, and a super large screen. IMAX delivers the world's most immersive movie experience, putting you into the film like no other presentation can. Don't forget to sign-up for a Reel Rewards membership and earn points towards future purchases and receive a free small popcorn and fountain drink the same day you join. Every Tuesday save BIG with our Super Saver Tuesday deals and discounts. Major Credit Cards Accepted.
 Todd Herendeen Theatre
850-381-0310, 8010 Front Beach Road Website: ToddHerendeenTheatre.com "Classic Branson and Vegas Style Entertainment". The Show Theatre features autographed guitars, photos, music memorabilia and vintage motorcycles! The Todd Herendeen Show brings Renowned Vocal Stylings and Fun comedy. Relive the excitement and energy of oldies rock' n' roll, country music, even "the king!" You'll sing, dance and laugh your way through his live stage show! Completely family friendly, Hear Tributes to Johnny Cash, Roy Orbison, Neil Diamond, Tom Jones and more, including his award winning Tribute to the King! Todd has worked with over 40 national acts during his career, including Tim McGraw, The Beach Boys, Gretchen Wilson, Neil McCoy, Foreigner and more!" Major Credit Cards Accepted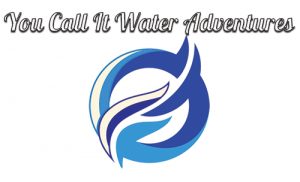 850-532-0234  Website: youcallitwateradventures.com. We offer dolphin & eco-tours, sunset cruises, snorkeling, beach & lagoon shelling adventures, inshore & offshore fishing, as well as restaurant and bar tours that are accessible by water. At You Call It Water Adventures, you call the shots. Call us today to book your adventure and let us cater to what experience you want to have. Major Credit Cards Accepted. Paypal, Venmo, Cash-app.
850-230-1243, 9008 Front Beach Rd, Panama City Beach, ZooWorld is a 501(c) (3) non-profit educational facility offering the opportunity to get up close and personal with animals from all around the world. Let ZooWorld put you eye to eye with beautiful exotic
animals. Come in and play with Montana the wolf and let our lemurs entertain you! We have even more! You can join us for the Keeper for the Day program. Get a three hour behind the scenes look of what it is to be a Zoo-Keeper. You will also learn more about our animal ambassadors during our daily shows. Shows are both fun and educational. ZooWorld is a proud member of ZAA. Major Credit Cards Accepted.