Welcome to Panama City Beach and the beautiful Emerald Coast. One glance and you will understand why we call it the Emerald Coast – crystal green waters brimming with a variety of sea life. The clarity and temperate nature of the coastal waters attracts an abundance of marine life and has placed our community high on the list of important fishing destinations.
Fishermen of all levels are virtually assured of leaving with a trophy mount or a great story for their friends back home. At the least, their coolers will be full of the best-tasting fish St. Andrew Bay and the Gulf of Mexico faithfully produce.
A private charter for the serious fisherman or the day spent with a large group aboard one of the party boats is exciting and fun. The targeted fish, however, for private fishing and group fishing are often different, so check with a captain or two before deciding which venue best suits you and your family.
Memories of great fishing are made every day about the one that was caught and not about the one that got away. We've all heard, "You should have been here yesterday." Well, in Panama City Beach, it's here today and tomorrow. You can count on it!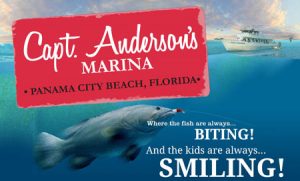 Capt. Anderson
Deep-Sea Fishing Boat
850-234-3435, 5550 N. Lagoon Dr., Panama City Beach. Website: CaptAndersonsMarina.com. Located at Capt. Anderson's Marina. Join the Capt. Anderson family for a day of fishing aboard their 65-foot double-decker boat. Enjoy delicious food and drinks in the galley or on the spacious decks. Daily 10-hour trips available. Prices include bait, tackle, reel, rod, license, ice, and sales tax.
Major Credit Cards Accepted
The Jubilee Charter Boat
850-236-2111, 3605 Thomas Dr., Panama City Beach at the Treasure Island Marina. Book online @ jubileefishing.com. Fun for the entire family, full-day or half-day trips. The spacious double-deck party fishing boat and friendly crew place safety and comfort first. Enjoy the upper deck and children's activities. There is an air-conditioned cabin with full-service galley serving breakfast, lunch, snacks, cold drinks, beer and wine. Small coolers allowed. Prices start at $50 per person. Fishing year-round. Major Credit Cards Accepted