Oaks by the Bay is a small and peaceful 5-acre park in the middle of historic St. Andrews. The centerpiece of the park is a beautiful 250-year-old Southern live oak tree named "The Sentry". This heritage oak tree was standing during the War Between the States as if a sentry were standing guard over old St. Andrews Bay. There are wooden walkways that lead down to the water edge where you can relax on the boardwalk benches while watching the waves and enjoying the salty gulf breeze. The park sustained damage from Hurricane Michael in October 2018 but is still a great location to take an evening stroll and enjoy the sunset down by the bay.
There are several amazing restaurants just 2 blocks from the Oaks by the Bay park. Take in the view of St. Andrews Bay at Uncle Ernie's, the Shrimp Boat or Barefoot on the Bay and eat some of the best seafood in the area. Enjoy some delicious authentic Mexican cuisine at Los Antojitos Mexican Restaurant. Or, look no further than the House of Bourbon for the perfect spot for drinks, snacks, dancing and great music. The area is definitely worth the 10 minute drive from Panama City Beach across the Hathaway Bridge.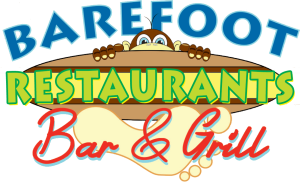 Barefoot on the Bay

850-785-8761, 1201 Beck Ave., Panama City Barefoot On The Bay is located right behind The Shrimp Boat Restaurant with a deck overlooking the waters of St. Andrew's Bay. We're saving you a seat with a gorgeous view of the sparkling waters and breathtaking sunsets. Great food, great drinks, great fun, and live music! Join us 7 days a week for lunch & dinner 11 am-9 pm; Happy hour 3 pm-7 pm. Major Credit Cards Accepted
Los Antojitos Mexican Restaurant

850-784-6633, 1246 Beck Ave., Panama City. Los Antojitos has been proudly serving Bay County the freshest Mexican cuisine and best steaks for over 40 years. Everything is made fresh daily, no chain food sold here! Enjoy waterfront dining, live music and two full bars. House favorites include lobster tacos, seafood enchiladas, mexi street corn, bone in ribeye and all of the margaritas are muddled fresh. Located in the heart of Historic St. Andrews on Lake Ware.
Fun, Funky & Always Fresh!
Major Credit Cards Accepted.
Shrimp Boat
850-785-8706, 1201 Beck Ave., Panama City.
Website: Shrimpboatpc.com. The Shrimp Boat Restaurant offers a unique waterfront dining experience, with a reputation for being one of the best seafood restaurants in town. Established in 1950 and located in Historic St. Andrews, we have much to offer including amazing steaks, pasta, drinks, and top-notch service. Perfect for waterfront dining, our restaurant is right alongside Smith's dock and affords a wonderful view of the fishing and pleasure boats. Dine on our outside deck that runs the length of the dock or relax by an open fire pit. Sunset drink specials from 4pm-7pm daily. Delightful creations – exquisite food – catering and events.Major Credit Cards Accepted
Uncle Erine's Bayfront
Bar & Grill

850-763-8427, 1151 Bayview Ave., Panama City Website: UncleErniesBayfrontGrill.com Uncle Ernie's Bayfront Grill and Brew House, located in Historic St. Andrews, offers more than just fantastic food, excellent service, and an incredible view. Dining with us, you experience a dose of history the moment you walk through the door. Along with the friendly service, this quaint house invites you to feel at home and at ease while you enjoy our award-winning food in a laid-back, relaxing atmosphere. You will enjoy live entertainment, incredible food, indoor and outdoor views of our waterfront and beautiful sunsets. Open 7 days a week from 11am-10pm. Major Credit Cards Accepted.
House of Bourbon
850-785-8706. 1201 Beck Ave., Panama City.
Website: Houseofbourbonpc.com
On your next trip to Panama City Beach, head over the Hathaway Bridge and venture to House of Bourbon in Historic St. Andrews. The craft bourbon bar is located on the 2nd floor of the historic Shrimp Boat Restaurant on Beck Ave. House of Bourbon has become a weekend hot spot for locals thanks to the eclectic and talented line-up and impressive drink selection. House of Bourbon's unique hole-in-the-wall atmosphere comes from its relatively small venue size that allows for live music, comedy performances, and of course, bourbon. Major Credit Cards Accepted.